Aluminium-Air batteries What if you no longer had to plug your electric vehicle (EV), which uses expensive and heavy Lithium ion batteries, into an electrical socket for charging?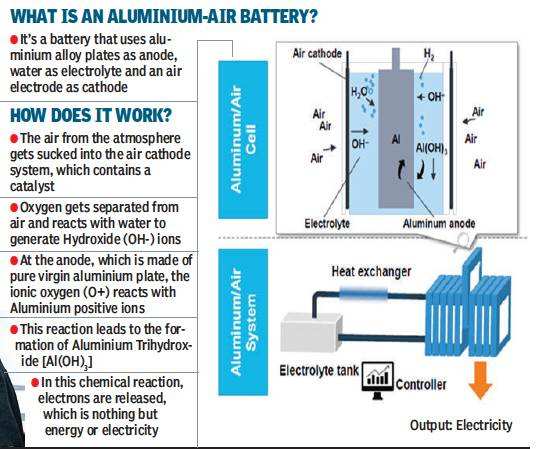 What if there was a much lighter, cheaper and greener battery that uses just air, water and the metal aluminium to generate electricity and does the job more efficiently by giving a driving range that's more than double that a Li-ion battery offers, that too without the need for electricity to charge it?
This could become a reality in the country a year or two down the line thanks to state-run oil marketing giant Indian Oil Corporation (IOC) and Israeli clean energy startup Phinergy that are working on commercialising Aluminium-Air (Al-Air) batteries for EVs in India.
.A prototype has been developed with 25 Al-Air cells stacked in a series and is being tested in electric cars with Tata Motors, in electric trucks and buses at Ashok Leyland and in electric three wheelers with Mahindra & Mahindra.

The technology behind Al-Air batteries is simple. The oxygen that gets sucked into the AI-Air cell from the air reacts with water and aluminium to generate electricity. The best part is that once the Aluminum has been fully eroded, the battery can be reloaded with a new anode (aluminium plate) and fresh electrolyte. For the consumer it means just swapping the used battery for a new one.
Credit – TOI