In 2015, when the government hiked the solar energy target from 20GW to 100 GW (in a new 175 GW renewables target) by 2022, it was considered wildly ambitious. Also, it was enough to spark strong interest in the sector finally, and with it, big bets. As it turned out, the sector did not let down hopes. From 2.6 GW in 2014, Solar capacity today has crossed 30 GW, an impressive achievement, but still, just 30 per cent of the target for 2022. That makes the next three years a crucial race for the industry and the government.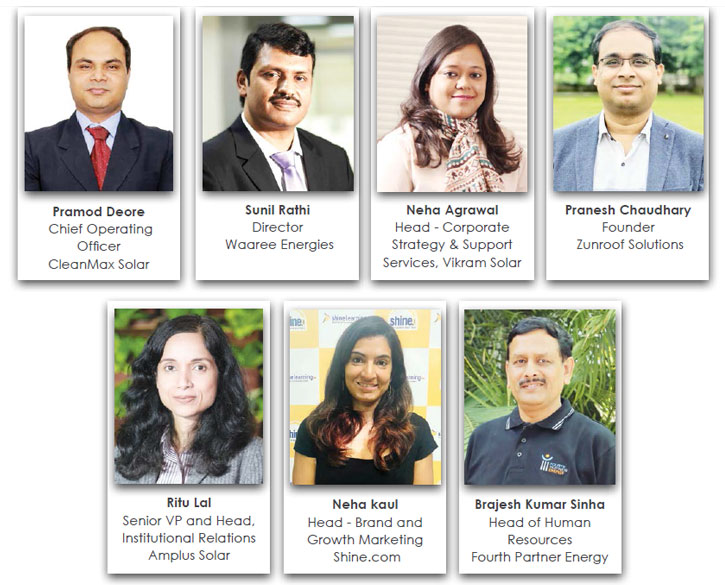 In exchange for whatever support the government has provided in terms of policies, rebates and even subsidies, today, the industry has delivered one of the lowest solar energy costs in the world to the country. But this has come at a high cost to the industry itself. Undercapitalized, low access to institutional finance, thin margins, and despite every effort, a weak domestic manufacturing setup. With the biggest share of India's targets still ahead, it's a good time to focus on a somewhat undersold part of the solar story i.e. Jobs. Because the jobs created by the sector will finally matter a great deal in the coming months, not just because the government desperately needs to showcase job creation anywhere it can, but also because as a share of jobs in the energy sector itself, renewable jobs are proving to be a much more better and sizeable option now.
Solar jobs, even as they help India's transition towards a green energy economy, offer a great opportunity to trim down poverty in rural areas, besides unleashing a wave of entrepreneurship wherever solar power strikes roots.
A report by the International Renewable Energy Agency (IRENA), mentions that on the global Jobs front, employment in the renewable energy industry surged to 11 million people in 2018, as against 10.3 million people in the previous year. Out of this, India remained on the fifth spot with 719,000 people in 2018. That's a ranking, and number that is bound to improve as India's targets push it to third spot overall, and the possible boom in rooftop solar, the more job intensive version of solar power, that is just beginning to take off in India. A million plus jobs and more is the general consensus by 2021.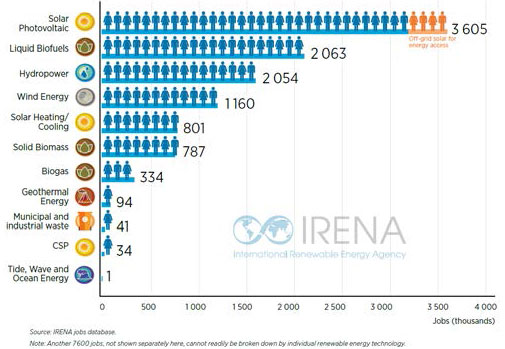 In fact, despite a slowdown of sorts in China, the market that turbo charged the solar sector with a steep 80% drop in equipment costs between 2015 to 2018, trading, manufacturing and installation of solar power has kept the solar economy and jobs creation buoyant.
Even as globally, the solar sector rules the roost with one-third of the total renewable energy workforce i.e. 3.6 million jobs, Asia is home to almost 3 million solar photovoltaic (PV) jobs, i.e. 85 per cent, of the aggregate solar jobs. China dominates, thanks to its strangle over global manufacturing of solar products across the supply chain, and its furious installation rate for the past 4 years. It has a 61 per cent (i.e. approx. 2.2 million) share of the jobs followed by Japan, the United States, Bangladesh and India.
But with the right intent and policies to reach our targets for 2022, 'acche din' might actually be here for solar jobs. This is because, of the pending target of 70GW, close to 50 percent, or 35GW, is supposed to come from rooftop solar, which could account for close to 2/3rd of total jobs created.
Last year, rooftop solar installations expanded by 66 per cent to 3.8 GW of capacity in 2018, utility-scale capacity was added less and stood at 24.4 GW, and 0.8 GW in off-grid solar. So, on the back of strong pace of capacity additions in India, i.e. 9.2 GW in 2018, grid-connected solar employment estimated to 1,15,000 jobs, which could be doubled if off-grid deployments were included.
In solar heating and cooling sector too, despite decline in global employment mainly on account of downward trend in major markets in 2018, India and several other markets showed increased activity.
The reason being, the geographic footprint of the renewable energy sector is changing after the diversification of the sector's supply chain.
In 2018, 32 per cent of renewable energy jobs are held by women workforce, which is substantially higher than 22 per cent average reported for global oil and gas industry.In US, women solar workforce rises to 26 per cent in 2018, against 19 per cent in 2013.In Indian solar rooftop sector women accounted for just 11 per cent of the workforce, a low share, but higher than women's presence in India's fossil fuel sector.
(SOURCE: IRENA)
Speaking on the sector, Ritu Lal, Senior VP and Head, Institutional Relations, Amplus Solar said that, "The Govt of India's 'Power for All' initiative has accelerated the capacity addition in the country. Since, in this industry, particularly talking about solar, the technology is much simpler and hence people can be trained in shorter time frames to start the actual work projects. Hence, Job growth in this sector has grown steadily to match the power installations. With the government's focus to promote sustained industrial growth and boost the Indian power sector, this will definitely increase growth avenues in terms of jobs creation and employment."
Sunil Rathi, Director at Waaree Energies, a manufacturing and EPC player itself supports this, quoting reports to say that "around 300,000 workers will be employed in the solar and wind sectors by 2022. Along with a robust solar module manufacturing industry is expected to have a potential of employing 45,000 people in India. Studies by international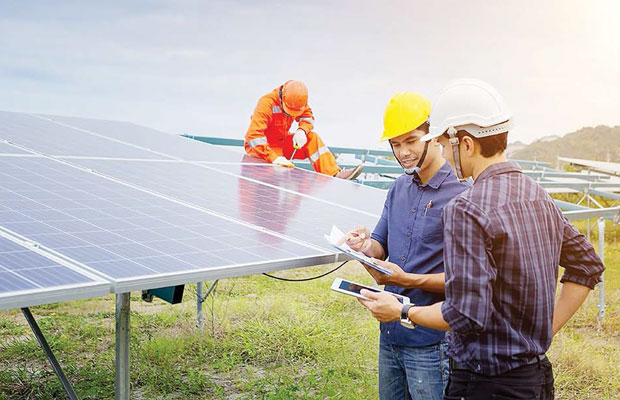 think-tanks believe that the development of the Indian renewable energy sector can even help tackle the ageold issue of poverty among the rural population through steady incomes as well as skill-building opportunities to both unskilled and skilled workers."
Neha Agrawal, Head of Corporate Strategy and Support Services, Vikram Solar has no doubts too, "It is noteworthy how solar is showcasing incredible growth. From a mere 10 MW installed solar capacity in 2009, India reached 30 GW in 2019. Last year, solar accounted for nearly 53 per cent of new energy capacity additions in the country. This unprecedented growth trajectory has created a big opportunity of job creation for India."
Despite the upward trend shown in the capacity additions in recent years, the government will need to ensure that the rising requirement of jobs should be met along with the surety of 'ease of doing business' in the country. Out of the total solar jobs created in the country, majority are and will be in the rooftop segment, the segment that was on slow lane till last year. Stifled mainly by red tape on net metering, subsidy payments, lack of open access clarity, financing options and of course, low awareness. In fact, actual jobs creation in the rooftop segment will probably be higher than most estimates, as competition will attract more firms trying to carve a business here, with the inevitable attrition and success rates like any competitive market. A sector that has been comprehensively commoditized thanks to its dependence on government policy finally has an opportunity to create brands and some differentiation thanks to the retail market that will be served by rooftop installers.
Today, awareness in key metros is at a level where in Bengaluru, self-aware customers are opting for solar despite no subsidies. In another example The Energy and Resources Institute (TERI) in association with Cadmus Group has launched a program called 'Indian Solar Market Aggregation for Rooftops' (I-SMART). The motive behind this demand aggregation program is to speed up the demand for rooftop solar systems of 1 GW capacity across 4 states and 2 Union Territories. Something that should be expanded pan India finally!
Besides, marketing has also been understated, as innovations in solar tiles and further cost cuts make it an interesting option for ecologically conscious buyers and underserved areas on the grid, like hilly regions and more.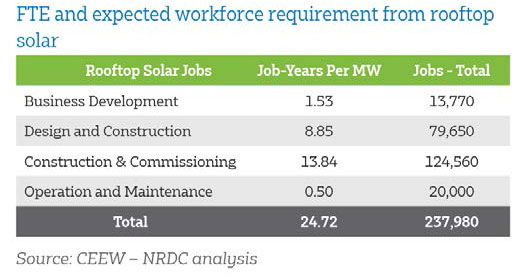 However, the biggest stumbling block today, just as it was a few years back when the 100 GW target first made its appearance, is discoms. The poor financial health of the discoms is also a major hindrance in the growth of the solar sector. In fact, some people fear that the discom problem (total debt of Rs 206,000 crore) has simply been kicked down the road from 2015, and will soon rear its head to stifle power sector growth, including renewables.
On the positive side, newer possibilities like floating solar, robotics, cheaper solar tiles look set to open newer segments that will all go to create more opportunities.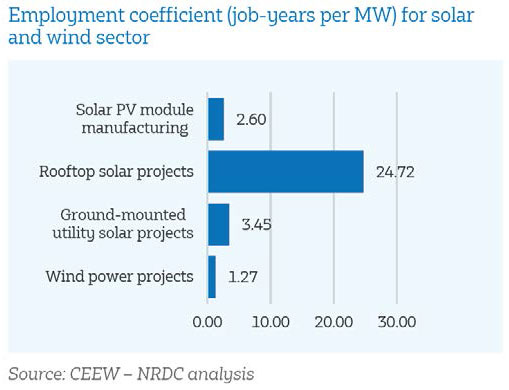 So just what Jobs does Solar Create?
Most jobs in solar power are created in the areas of Business Development, Managerial positions, sales, purchasing, logistics, quality control, operations & maintenance (O&M), accounting, dealer representatives, customer service etc.
So on the kind of jobs that have been created in the country so far in solar and their typical values for each level including services level jobs such as operations & maintenance (O&M), other roles, Pranesh Chaudhary, Founder, Zunroof Solutions says, "Apart from blue-collared jobs, the industry is also looking for recruitments in Sales, Corporate Finance, Product Management, Service and R&D. These are the long term jobs. During the construction phase itself which lasts between 6-9 months in large projects and barely a week in rooftop, quality trained workers are always in demand".
Pramod Deore, Chief Operating Officer, CleanMax Solar says that, "From engineers to project managers, from liaison officers to sales and BD officers, demand is rising in the white-collar segment. In fact, all segments of labour force —unskilled and semi-skilled have a place in this sector for maintenance and cleaning activities. Skilled labour is required for engineering, procurement and construction (EPC), the labour required for O&M of the plant can be semi-skilled or even un-skilled. These skills can be easily imparted with on-the-job training modules. The Government has also taken keen interest in building skills for these jobs with schemes like Surya Mitra Skill Development." Interestingly, we received more than one input that schemes like Surya Mitra, while potentially useful, are not really a crying need, as skills required by this young sector are interchangeable with skills found in other sectors. Be it the blue collared skill sets which call for power equipment handling and construction, to managerial skills. At least one executive we spoke to pointed out that 90 per cent of their firm's employees are from external sectors and doing very well.
Finding the right people is as easy, or as difficult as for any other sector, other than short training modules that might be needed. Brajesh Kumar Sinha, Head of Human Resources, Fourth Partner Energy said, "We look for talented, dedicated individuals with a hunger to learn. Technical skills vary, depending on the nature of the role – and for most projects/services profiles we look for electrical, mechanical engineers, design architects, supply chain and logistics expertise with emphasis on strategic sourcing and quality assurance."
Business Development remains the top of the heap, in terms of emoluments. Neha Agrawal said "One of the more highpaying solar careers is sales. Whether you are representing the manufacturer and selling to wholesalers, retailers, and installers or are dealing directly with individuals who are interested in a solar installation there is always a strong demand for capable sales people."
With a rooftop solar perspective, Pranesh Chaudhary said, "For every solar rooftop installation for residential customers, ZunRoof needs 3 teams – 1). Engineers to design the site per home-owner demand and solar requirements; 2). Operations folks to manage the vendors & customers during the delivery process; and 3). Project engineers to ensure quality and liaise with different government departments/ electricity boards."
Chaudhary, adds that, "Another set of jobs would be created for diploma holders, under-grads and skilled/ unskilled laborers in the installation and maintenance world and should be ~5 lakhs. One more set will be created in the manufacturing and transportation sector of panels, inverter, structure and BoS and could lead to another 1 lakh jobs. The biggest skill in demand would be of design engineers and operations management – inefficiencies will be huge given the sector is still being created and both these roles will lead to higher output for client and lower costs for companies."
On the current sourcing strategies of the companies to get the appropriate candidate and the kinds of skill sets in demand in the industry, Pramod Deore, of CleanMax Solar shared his perspective that, "Talent sourcing strategy is a mix of freshers as well experienced candidates, the freshers are recruited from engineering institutes like IITs through campus recruitment and then groomed for future leadership roles. The unskilled & semi-skilled employment is generated mostly at the local level through third party contracts. We always impart necessary skill development & training for our workforce. The skill sets currently in demand in solar industry are design & engineering, procurement and supply chain, project and construction management, quality assurance and project safety, O&M of PV plants; also data analytics and IoT, project management, etc. throughout the value chain."
For Ritu Lal of Amplus Solar, its not much different with "Our sourcing is done via multiple sources – references & lateral hiring (preferred source), hiring via social media domains like LinkedIn, Facebook etc, Campus relationships with various colleges across India, hiring via consultants etc. At Amplus, Skills set in demand vary in Technical and Support domains. An ideal Recruitee in technical/project related domain may possess an Engineering degree with Electrical as their domain of specialization primarily, however, certain job roles also require civil as a field of specialization. On the other hand, an ideal recruitee in support will typically be a Management graduate with specialization in varied fields."
In line with the industry opinion on the growth trend in green jobs, Neha Kaul, Head – Brand and Growth Marketing, at Shine. com, a job portals, said that, "Mapping the data available on Shine.com, we can say with some confidence that jobs in the renewable energy sector are not as niche as they once were. Further, there are currently around 17,565 job postings in the solar energy sector on Shine.com, with most companies offering salaries between INR 3 lakh and INR 12 lakh. These jobs are spread across several departments including sales/ BD, production, QA/QC, design, construction, maintenance, etc. This indicates that there is no dearth of high-value jobs in the renewable energy sector in India today."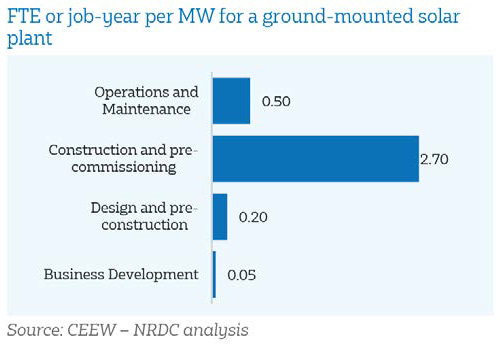 On the estimation for each MW of installation at a solar farm in India and speed of jobs creation along with for rooftop solar, Sunil Rathi explained, "The construction and maintenance of solar plants are an elaborated process that requires a considerable amount of manpower. For every 1 MW of solar installation, about 50 to 75 new jobs would be created mostly in the contract labour side with another 5 to 10 jobs on the white collar side. Rooftop Solar is the next big thing and will certainly create well over 10,000 jobs in the E&C space. Considering the labour-intensive nature of rooftop projects, they provide 24.72 job-years per 1 MW compared to 3.45 for ground-mounted solar projects."
Chaudhary of Zunroof says that "Every MW of residential rooftop installation happening in parallel will create at least 200 jobs for the teams which companies like Zunroof will need to hire amongst engineers and graduates. So, for India to meet 40 GW of rooftop installations (assuming a run-rate of 300+ MW a month in 5 years or so), at least 1 lakh jobs would be created. Rooftop solar should create ~1 MM jobs in the next 5 years."
Pramod Deore adds that, "The solar and wind power generation segments cumulatively could create new job opportunities between 2 million and 4.5 million over the next 25 years, according to a detailed study of the country's energy sector conducted in 2018 by Climate Policy Initiative and Indian School of Business along with experts from Jawaharlal Nehru University (JNU) and Indian Institute of Technology (IIT)-Delhi."
Rathi does point to the hurdles to rooftop growth. "Rooftop solar is currently facing issues pertaining to tender approvals, involvement of multiple stakeholders, reluctance of discoms due to revenue loss and lack of uniform regulation. Supportive schemes like the SRISTI (Sustainable Rooftop Implementation for Solar Transfiguration of India, a subsidy scheme) scheme undertaken by the Government is a positive and necessary step to motivate the segment, thereby increasing the job creation capabilities in the segment. Similarly, reports state that approximately 45,000 more jobs will be created under the solar module manufacturing segment only if the demand for modules is met domestically."
Brajesh Kumar Sinha, gives his own firm's example to illustrate the issue. With 10 offices across India and a workforce of over 260 people, "We have an operating portfolio of over 160 MWp of distributed solar assets installed in 23 states. Just 3 years ago, in FY16 our headcount at Fourth Partner was around 40; In FY 17 we added about 37 employees, 61 people in FY 18 and about a 115 new employees last fiscal. The target for this year is over 150 employees – a clear indicator of the potential of job creation in India's solar sector. For this boom to continue, it is imperative now for the industry to create a conducive environment for regulators, developers, financiers and clients to work within a stable policy framework. Better HSE standards, contract enforcement laws and gearing up local manufacturing capabilities will also give comfort to financiers and developers looking to enter the market; thereby resulting in clocking higher solar generation targets which will help create both direct and indirect jobs in the sector."
It is clear that with a 22 per cent share in the energy mix, and solar itself with close to 9 per cent share, the time to treat this as a fringe sector is long past. The fact that it can create quality jobs in a 'green' sector is a strong reason for the government to support the solar sector with a broader perspective. Like electric vehicles (EV's), it needs to focus on enabling manufacturing in India, followed by a hands off policy when it comes to rooftop solar particularly. The biggest tool it has used to 'control' growth, subsidies, are at the end of their life, and the government should use that to acknowledge that its job now is to simply ease solar adoption. It will be doing itself, the country and the environment a big favour if it can do that well.